We are Ready to Manage Your Challenging Tooling Needs
Just as a hotel concierge recommends the best places to eat and shop, we at Pilot Precision Products welcome the opportunity to serve as your Tooling Concierge and recommend the best precision cutting tools for your applications.
Here's what we can do for you:
We have a team of dedicated tooling application engineers that can look at a 2D or 3D drawing of your part, understand the capabilities of your machines and help you "program" your job with the best tooling, setup, starting feeds and speeds recommendations.
We have 5 brands, each with their unique specialty. We keep a strong inventory of different tools from our brands in stock and our various distribution partners do also. We can design and make custom tooling from scratch, or modify standards quickly - often within a week of when you place your order.
This is why we call it the "Tooling Concierge" and we are ready to help with your next challenge. To see it in action, please visit the 360 tour below to get a feel for our in-house capabilities.
Try it for yourself: call us at (413)-350-5200 or use the form below. We'll be happy to look into your project.
Ask the Tooling Concierge: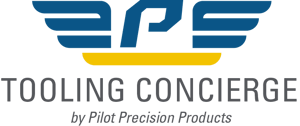 As your Tooling Concierge, we use our expertise to understand your complex machining applications, recommend the right tooling, help you use your tooling most effectively, manage your tooling supply and recondition used tooling. At Pilot, we also leverage our technical knowledge and business relationships to connect you with four of the world's most respected brands of broaching tools, reamers, micro endmills & drills, and more.
SUPERIOR PRECISION, QUALITY, CONSISTENCY, AND PERFORMANCE.